Now at JAVISTA: "CONTRAST: The Music Photography of Greg Allen"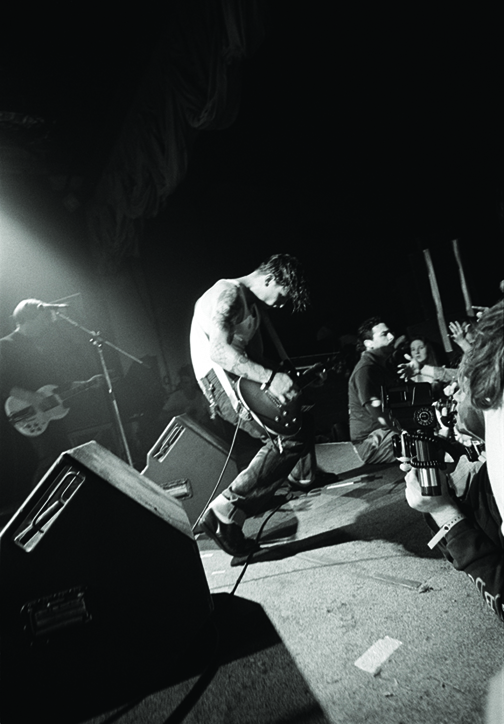 Mike Ness of Social Distortion, taken in March of 1989, and used as the back cover of their eponymous 1990 album on Epic Records. Photo Ⓒ Greg Allen/GAPD
Heya, friends and caffeinated followers! As promised, we're announcing our next Javista gallery opening, and *you* are invited - and when we say "gallery", we mean "the two lovely Javista brick walls on which we can hang art". #Swanky
On Friday evening, September 27th at 8:00pm, we'll be hosting a wine & cheese art opening, showing some of the photographs of one of our favorite L.A. photographers: "CONTRAST: The Music Photography of Greg Allen".
Graphic designer and photographer Greg Allen has spent his professional career immersed in images of musicians making music. He has designed records, CDs, books, and posters for major record and film companies, as well as capturing, through photography, music at its inception in the studio and in concert. His photographs at Javista will be a glimpse through the multifaceted lens of Allen's career. 
[More of his work can be seen at www.gapd.com, and at Omnivore Recordings (www.omnivorerecordings.com), the entertainment group of which he is a founder/partner.]
Find us at javistacafe.com, on Yelp at http://www.yelp.com/biz/javista-organic-coffee-bar-los-angeles, on twitter at https://twitter.com/JavistaCoffee, on Facebook at https://www.facebook.com/JavistaCoffee, instagram at http://instagram.com/Javista and googlemap https://plus.google.com/117966553495096977762/about?gl=us&hl=en



Javista Organic Coffee Bar. Exceptional Organic Coffees & Teas. Fresh Artisanal Sandwiches and Baked Goods. Stylish & Comfortable Setting. By Whedon Fans. Located in The Hungry Heart of Hollywood. Our hours are 7a-7p daily. Currently digitally located on javistacafe.com, tumblr and twitter, etc. We opened in the Real World on 12/10/12 at 6707 West Sunset Blvd., Hollywood, CA 90028, 323.464.6707.